Walkwood Album, Walkwood Publishing, Digitalio, Deciduous Naked, Eagereye, Sheltered Passions, Carriage Leaf, TableGraphs and PocketBox Portfolio names, as well as the eyelash, windmill, leaf scroll and pine tree logos are trademarks of RS McWherter. All images and design work are © Copyright 2010 RS McWherter. All rights reserved.
© Copyright 2010 RS McWherter. All rights reserved.


PocketBox Portfolios are miniature portfolio booklets that are individually made by the artist. Each portfolio is a selection of 8 to 12 prints the artist has chosen based on a particular theme. The booklets are approximately 5.5 x 6.5 inches, printed double sided and spiral bound. Each portfolio is signed and includes a biography and an artist's statement about the work.
All ground shipping costs are free for the continental United States, with other options available. Customers in Western Pennsylvania may choose free personal delivery to your door.
You may also post mail your order with a check or money order to the following address:
Richard S. McWherter
Walkwood Publishing Co.
617 W. 5th Ave.
Derry, PA 15627
USA
724-694-2004
eagereye@email.com
To place an order online, please click the "Add to Cart" button beside the desired item.
When finished shopping, click the "View Cart" button to checkout using Paypal.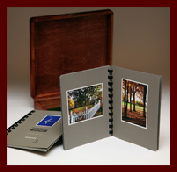 The Walkwood Album $125.00
With Eagereye $125.00